The kitchen is truly the heart of your home. You want your kitchen cabinets to be practical and easy to use as well as add beauty to your space.
But when it comes time for new cabinets, you may be thinking, what are my options? And what is the best material choice for my modern kitchen? Since the quality and appearance of your kitchen cabinets depends mainly on the material, homeowners should be informed about their available options. Furthermore, modern cabinet materials differ entirely from traditional style material options, so you'll want to know their differences.
Having a deeper understanding of each type of modern cabinet material will help you better decide what to invest your money in and what will work best for your kitchen design and personal style.
That's where we come in! The team at Acadia Craft is here to break down the four most popular modern kitchen cabinet materials and help choose the best fit for your kitchen. We recommend taking an in-depth look into each cabinet material and then working alongside a custom cabinetry company to determine what is best for your lifestyle needs and design preferences.
What Are Modern Cabinets?
Modern cabinets are a style of cabinetry known for being extremely elegant and boasting a sleek, minimalist design aesthetic. In addition to their high-end appearance, Modern European style kitchen cabinets are further characterized by their frameless design, straight lines, simple hardware, smooth texture, and increased storage capacity.
Modern Cabinet Materials
Instead of traditional front-facing cabinet materials such as solid hardwood, modern cabinets primarily utilize synthetic materials and wood veneers. Popular modern cabinet materials include real wood veneers, acrylics, laminates, thermo structured surfaces, and painted surfaces.
Popular box materials for the interior of modern cabinets include white and gray melamine on particle board core, or birch veneer on plywood core. Modern cabinet materials allow for a smooth, refined, and sleek appearance.
Now that you know a little about modern cabinetry let's dive into the four best materials for modern-faced kitchen cabinets and what the best choice is for your culinary space!
4 Best Modern Kitchen Cabinets Materials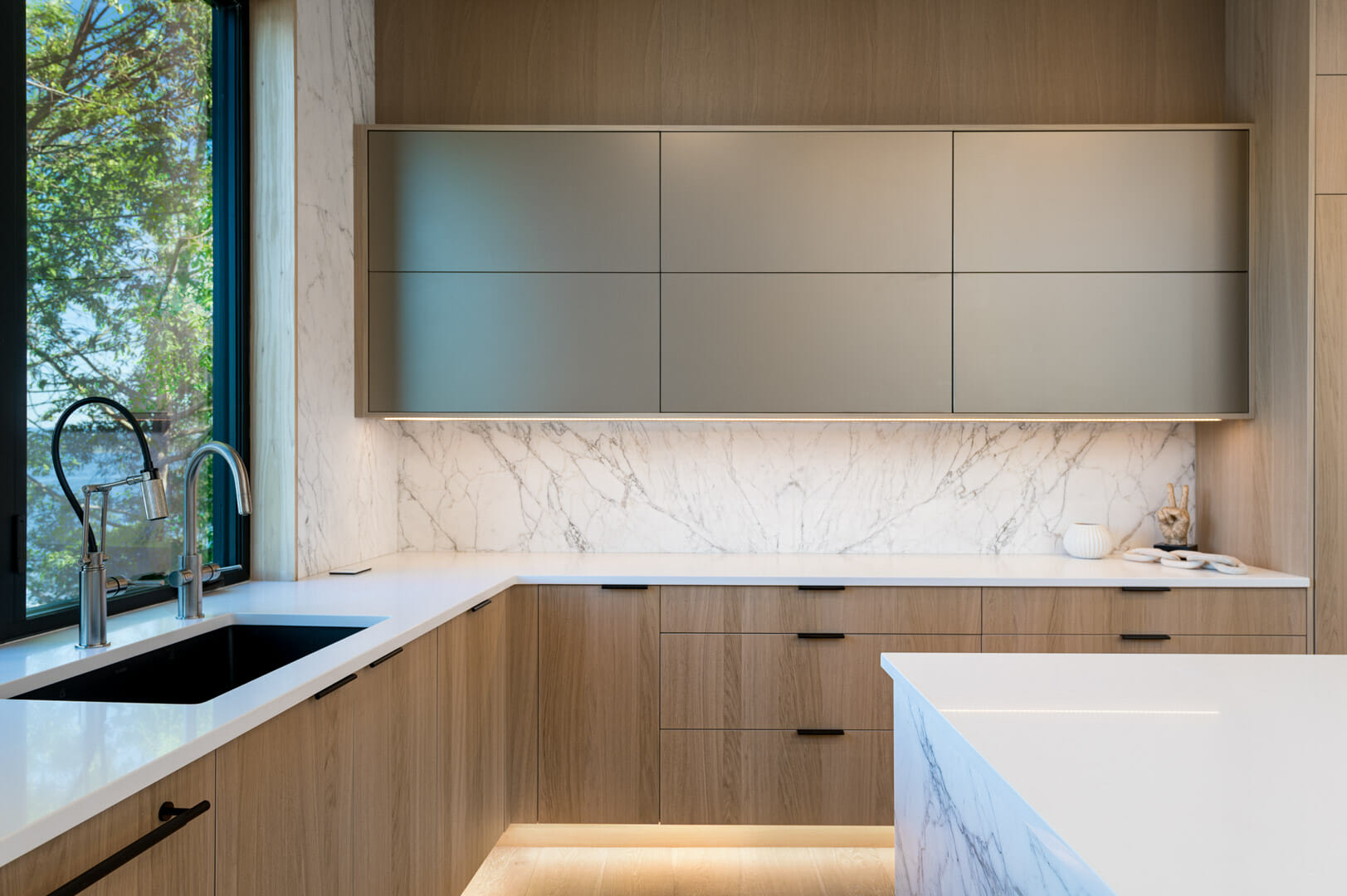 Real wood veneer is a thin sheet or layer of superior quality, decorative-grained wood. This wood veneer sheet is bonded to a stable core such as plywood, particle board, or MDF.
Real wood veneers are an excellent choice for homeowners looking to create a warm, inviting atmosphere in their kitchens. As mentioned, modern cabinets usually utilize synthetic materials that can sometimes make a kitchen feel sterile and unwelcoming. Real wood veneers are a great way to bring a beautiful natural wood finish and a touch of color into your space.
We regard real wood veneers as a much better option than other wood-like materials because they completely capture the beauty of real wood but do not have the potential drawbacks of other materials. Solid hardwood and other engineered wood products are impractical as they are susceptible to cracking and warping due to moisture and temperature variations. Real wood veneer material is resistant to moisture and temperature variation, making them a perfect choice for modern slab cabinet doors.
In terms of strength, wood veneers offer a high level of durability and strength-to-weight ratio. They are also easy to clean and maintain, making them a quality investment. Some of the most popular choices for real wood veneer include oak and walnut.
Acadia Craft aligns with modern industry trends for cabinet material selection by utilizing real wood veneer for our client's custom cabinetry, and no matter your color, finish or design preferences, you are sure to find the perfect real wood veneer choice when you work with us for your kitchen cabinets.
Acrylic, HPL, and Other Polymer Laminates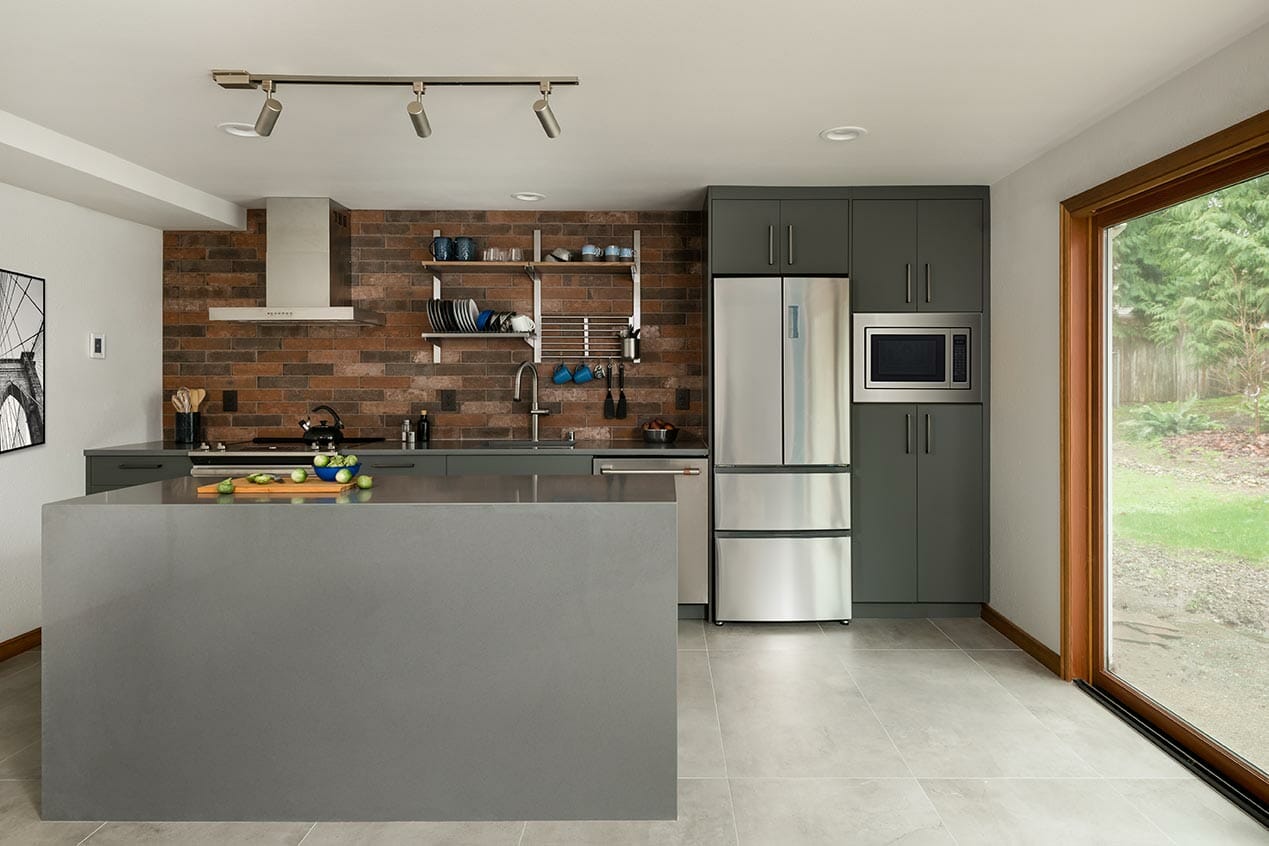 Like a real wood veneer, laminate covers the exterior of your kitchen cabinets. High Pressure Laminate cabinets are constructed out of three layers: a base layer, a colored layer, and lastly, a transparent layer. These three layers bond together to create a moisture-resistant, easy-to-clean, durable cabinet door alternative. Laminate is the way to go if you want a modern, functional, and waterproof kitchen cabinet. Another benefit of laminate is that endless color and shade options allow for a high level of customization.
Similar to laminate, if you are looking for a modern, sleek aesthetic, you should also consider acrylic cabinets. Acrylic is a finishing material applied to MDF or HDF cabinets to provide a smooth and elegant finish.
Not only do modern acrylic kitchen cabinets upgrade the aesthetic and beauty of your kitchen, but they provide several functionality advantages for homeowners. Because of their durable design, these high-gloss kitchen cabinets can withstand large amounts of wear and tear from everyday use. Additionally, the multi-layered composition creates a scratch, moisture, and UV-resistant surface. Best of all, acrylic cabinets do not lose their bright color or glossy finish, even after years of use.
At Acadia Craft, you can choose a high gloss or super matte finish for your acrylic or laminate kitchen cabinets.
Thermo Structured Surface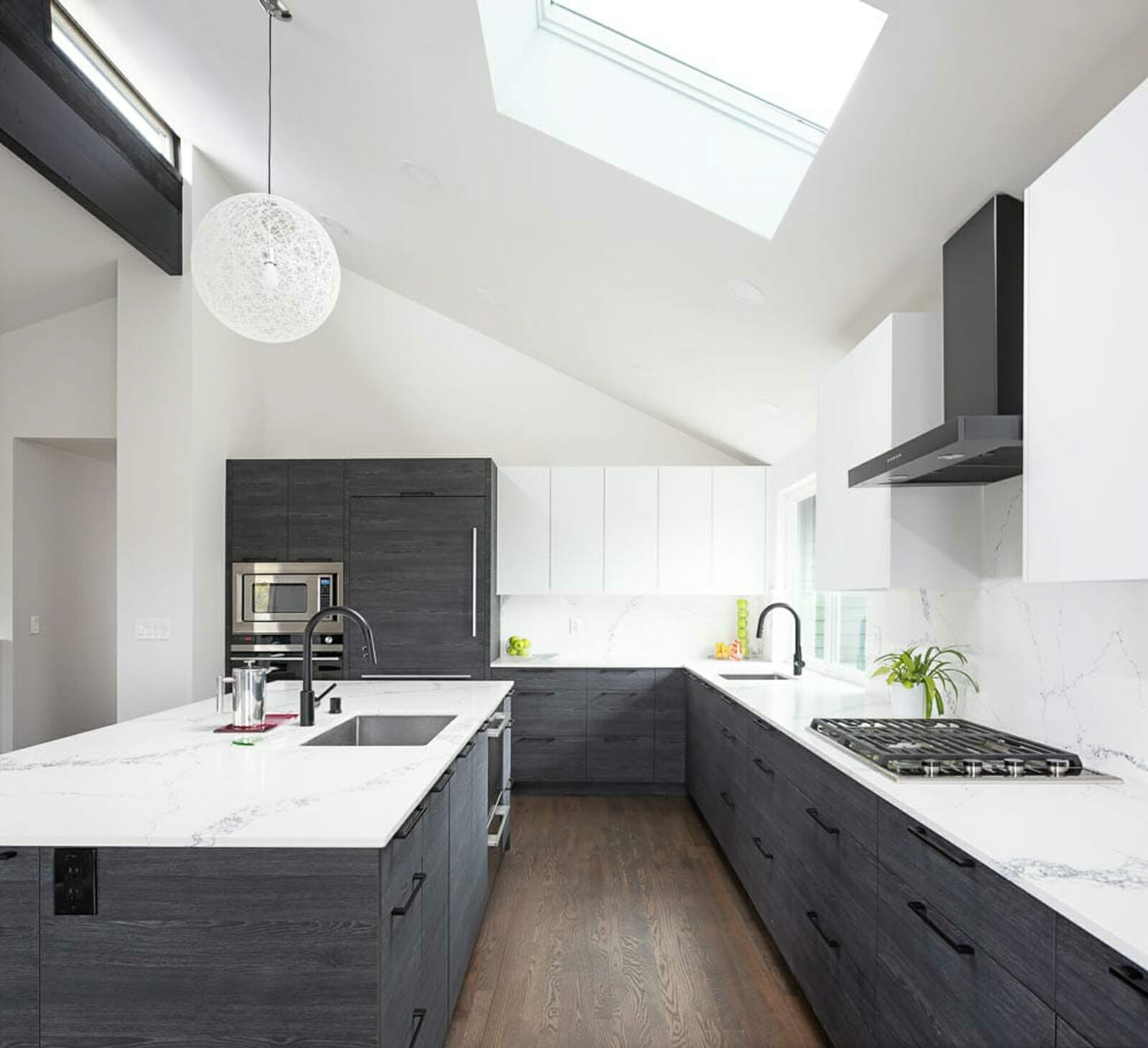 TSS or thermo structure surface is a cabinet material alternative to real hardwood. It is a textured wood grain face thermally fused and stamped onto a particleboard or plywood core. This cabinet material allows homeowners to achieve the appearance of natural wood finish while enjoying the benefits of a high-quality, durable, long-lasting, easy-to-clean laminate-like material.
TSS cabinets have quickly become a trendy modern alternative to natural wood or wood-engineered cabinets. Homeowners can choose from a wide variety of natural wood-like finishes, shades, and textures, such as walnut and oak, while maintaining a sleek and contemporary aesthetic.
Overall, TSS-style kitchen cabinets are a great way to achieve a stunning natural yet modern appearance at a more affordable cost and without the drawbacks of real or engineered wood.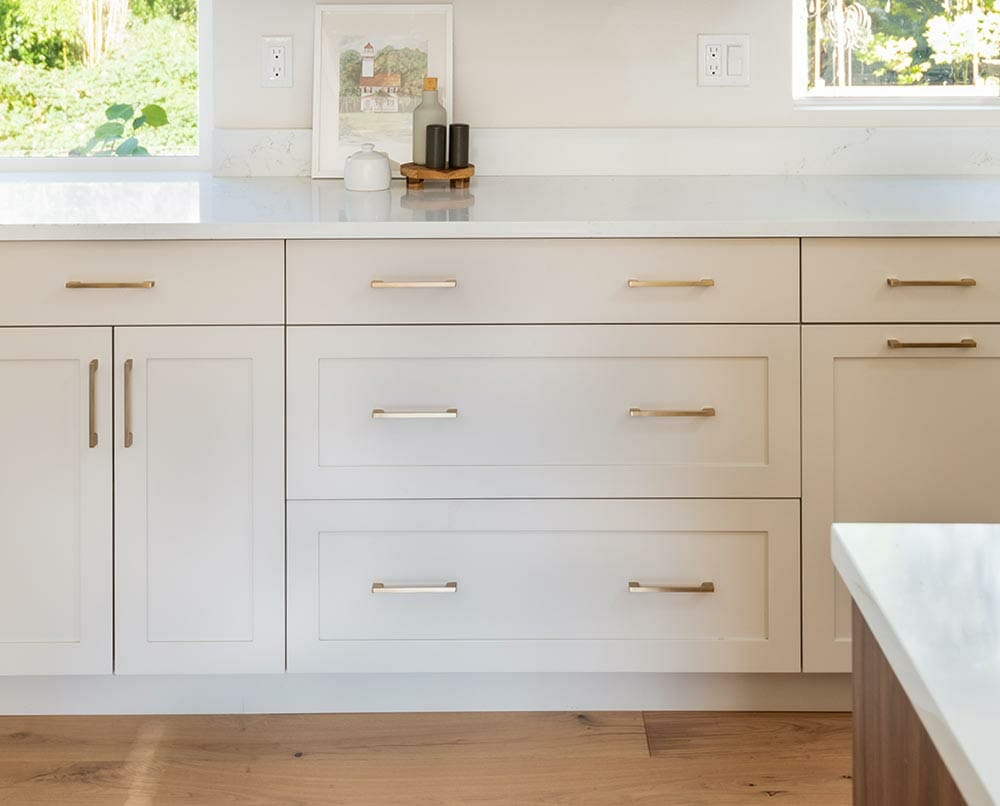 A shake-style cabinet is a cabinet door surrounded by a frame. The door comprises five pieces- a center slab enclosed by a four-piece frame. The best part of shaker-style cabinets is their design versatility and sleek, slim appearance that provides for increased functionality in your kitchen. This effortlessly simple design works beautifully in various kitchen styles, from ultra-modern to traditional.
A modern take on the typical shaker-style cabinet door is a new trend we've seen grow in popularity over the past few years. Modern shaker cabinets boast a sleek, unique profile that can fit many different modern design aesthetics. This style may be right for you if you want a sophisticated, slim, and refined cabinet-facing door! At Acadia Craft, we typically see his door style painted or stained, as well as in any natural wood finish.
How to Choose The Best Modern Cabinet Material
Overall, these four materials are the best for modern kitchen cabinets due to their high-end, elegant appearance, sleek design, extreme durability, and slim construction. However, there are countless cabinetry materials to choose from; it all comes down to your budget, functionality needs, and desired style or appearance.
The beauty of working with a professional cabinetry company is they can help you pick the best material for your individual needs. The artisans at Acadia Craft can guide you through the selection process, helping you choose a material, color, and finish combination that makes your new modern cabinets truly come to life.
Acadia Craft Modern Custom Cabinetry
When it comes to your new kitchen cabinetry, trust your local experts at Acadia Craft. We design and manufacture luxurious European-style cabinets with a sleek, modern appearance. Because there is no bulky frame, our cabinets are simple and elegant and allow for maximum storage, helping homeowners make the most out of their kitchen space.
Our fully customized design process allows for the highest level of personalization, meaning you can choose from a vast selection of modern cabinet materials, colors, finishes, hardware, and accessories. You can count on our team to listen closely to your vision, plan how your entire kitchen will come together, and then execute a cabinet design that leaves you amazed. Our cabinet specialists are experts in all things modern cabinetry and are here to help you through this process from start to finish.
At the end of the day, our goal is simple – to upgrade your outdated kitchen with functional, beautiful, and outstanding quality modern cabinetry.
Contact Acadia Craft today to learn more about our modern European cabinets. Let us transform your cabinetry into something better than you could ever imagine.