If you want to upgrade your home's appearance – think cabinetry! Not only are cabinets essential for storage and functionality, but they take up a lot of square footage in important rooms like your kitchen and bathrooms, making them the first thing guests notice. By replacing your existing outdated cabinets or investing in new modern custom cabinets, you can completely transform the look and feel of an entire space.
As a homeowner, it may seem like millions of different cabinet styles, materials, and finishes are at your fingertips. But how do you choose? While the options may seem overwhelming, look to this blog as your guide. We break down the pros and cons of every popular cabinet material, their various uses, and help you get a better idea of what is right for you. We also highlight your options for modern cabinet materials, as at Acadia Craft, we exclusively work with modern European-style custom cabinets.
Our cabinetry specialists have years of experience guiding our clients through the cabinet material selection process, helping them choose the perfect choice for their homes. We specialize in modern-style cabinets that offer clean lines, a frameless construction, and allow for maximum storage. Whether you want your new modern cabinets constructed out of real wood veneer, laminate, or acrylic, our artisans go above and beyond to exceed your expectations.
Now let's dive into your ultimate guide to cabinet materials.
Wood Cabinet Materials
Wood is one of the most popular traditional cabinet materials. From front-facing doors to the sides, back, and bottom of your cabinets, chances are that one of those will be wood. Within just hardwood alone, there are countless variations, species, grains, and colors to choose from. For example, red oak, white oak, birch, maple, cherry, pine, the list goes on! Not to mention there are countless popular hardwood alternatives that help you achieve a more modern appearance, such as real wood veneer and thermo structured surfaces, otherwise known as TSS.
Let's break down the different types of wood and engineered wood options available for your cabinetry: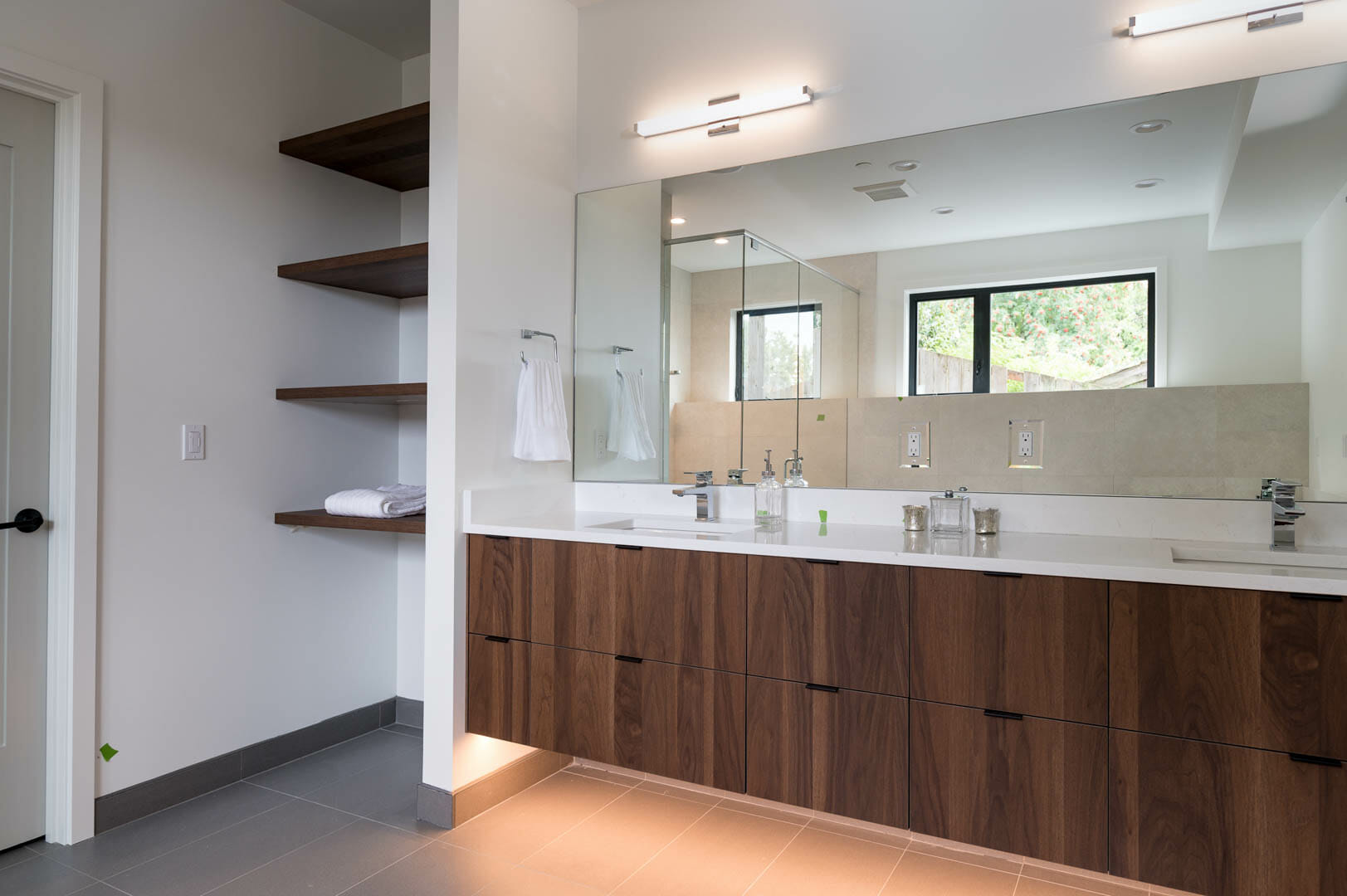 Real wood veneer is a thin overlay of high-quality, decorative-grained wood. This wood veneer overlay is typically affixed to a strong core made of MDF, plywood, or particle board.
Real wood veneer is an excellent material choice if you desire the warm, inviting feeling that natural wood evokes for your home. Usually, modern cabinetry is constructed of synthetic materials that can make a space feel cold, unnatural, and potentially uninviting to guests. Using real wood veneers for your cabinets gives you a timeless natural wood appearance while adding warmth and coziness to any room in your home.
At Acadia Craft, our cabinet experts consider real wood veneer a much better material choice than natural hardwood. This is because you can completely encapsulate the beautiful appearance of solid wood but can avoid all the disadvantages.
Solid hardwood and most other engineered wood products are unsuitable for kitchen and bathroom use as they are extremely vulnerable to cracking, warping, and breaking from the moisture and water in the air. Real wood veneer is water and moisture-resistant, making it a better alternative for your cabinet doors.
In terms of durability, wood veneers offer the highest level of strength and resistance compared to other wood alternatives. Like other modern cabinet materials, real wood veneers are also easy to clean and maintain, making them a smart solution for busy homeowners. Oak and walnut have been some of the most popular wood veneer styles over the past few years.
While you may desire the look and feel of natural wood, at Acadia Craft, we believe that real wood veneers are the best option for any style of cabinetry – but especially modern European-style cabinets. Our cabinet professionals can help you find the best real wood veneer choice that aligns with your personal style, home decor, and design preferences.
You should note that real wood veneers are only fitting for cabinet doors due to their construction.
Pros: 
Real wood exterior and appearance 

Many different finishes, stains, and paint options

Easy to clean and maintain 

Lightweight

Perfect for a modern appearance 
Cons: 
Not as durable on the surface as some TSS or engineered laminate material
Solid hardwood used to be one of the market's most popular traditional cabinet materials. It boasts a classic, timeless look and is very high quality.
Within the hardwood family, there are endless shades, grains, and colors to select from. That's the beauty of this material. Each wood plank is unique, making your cabinets much more special. Like hardwood flooring, solid wood cabinets are expensive; however, they can easily be sanded or refinished to maintain their appearance, making them a potentially cost-effective investment.
While solid wood is a great choice for some styles of cabinets and homes, it is not the best option if you are trying to achieve a modern look or design. It also has some very serious downsides with it, the biggest being susceptible to moisture and temperature variation. That would make the solid wood door expand, contract, crack, and warp from temperature and moisture valuation. Also, the solid wood door would be more susceptible to vibration, that would cause cracking in the core.
Solid hardwood may be a good cabinet material choice if you are trying to achieve a traditional appearance. However, if you want the feeling natural wood evokes without the downsides and dated look, real wood veneer may be your smarter choice. The modern cabinetry industry is moving away from solid wood materials to real wood veneer materials with a stable core.
Keep reading this blog to learn more about real wood veneers and the best materials for modern cabinets!
Acrylic, HPL, and Other Polymer Laminates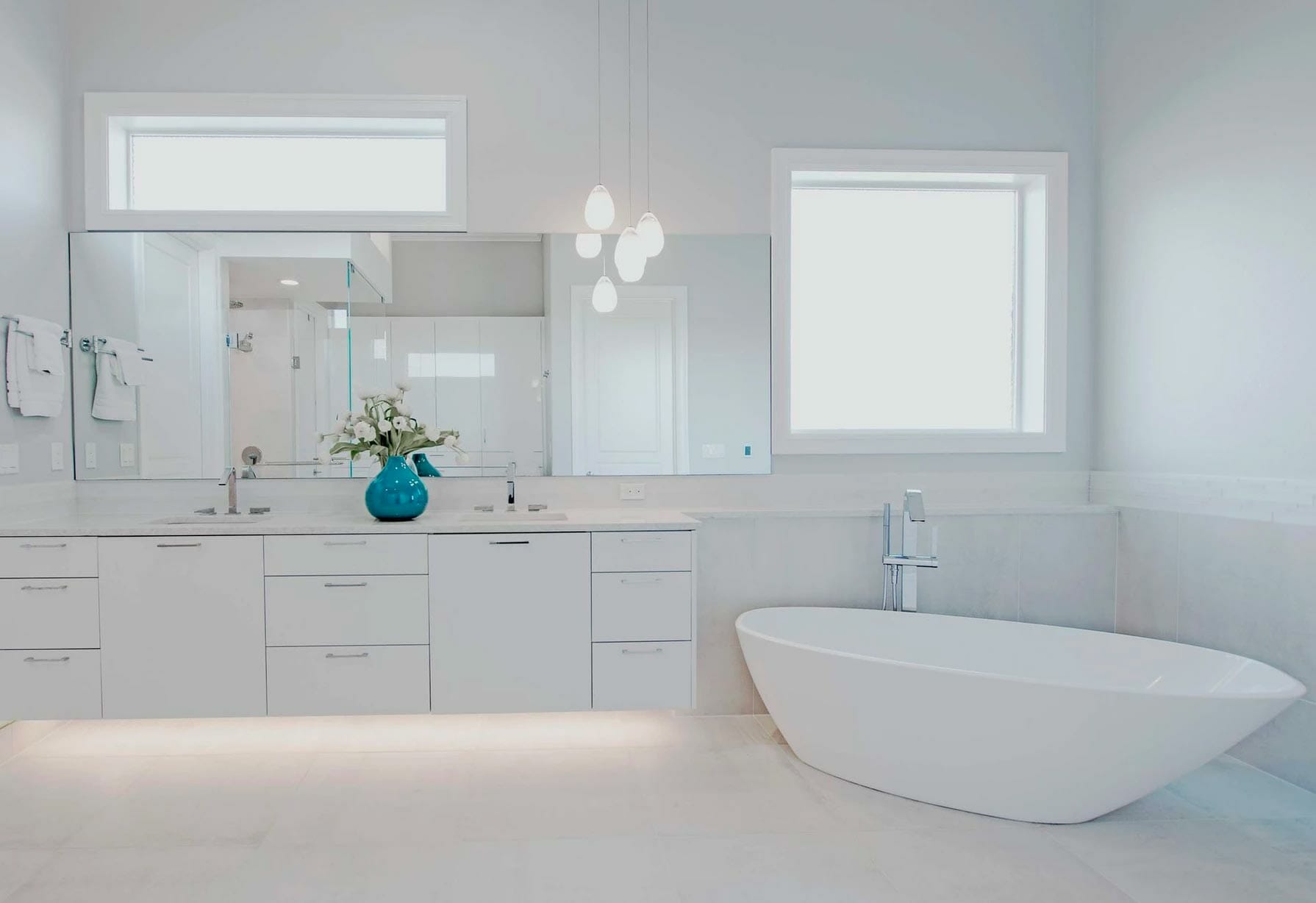 Along with real wood veneer, we've seen an increase in the popularity of acrylic and high-pressure laminate cabinets. High-pressure laminate cabinets consist of a core material made of wood or melamine, with an additional two layers attached. Generally speaking, this looks like a base layer, a colored layer, and a final transparent layer. The thin layer attached to the core can be of a higher grade, commonly known as high pressure, or a lower grade, known as low pressure, and come in various colors, shades, and designs.
This material offers a high level of customizability and protection against water damage, warping, and rotting, making them an excellent value for your investment.
HPL is an excellent material choice for sleek, modern cabinetry, like what we offer here at Acadia Craft. If you are a homeowner looking for a versatile, cost-effective option for your modern kitchen, HPL cabinets are a great decision.
Similar to laminate, if you are looking for a material with an ultra-modern aesthetic, you should also think about acrylic. Acrylic is a finishing material applied to MDF or HDF cabinets, resulting in a smooth, glossy polish.
Not only do acrylic cabinets modernize any space's aesthetic, but they also offer multiple functionality advantages for your bathroom and kitchen. Because of their resilient design and composition, this high-gloss finishing material can withstand a ton of wear and tear from your family's daily usage. We consider this material resistant to scratches and water damage one of the most significant benefits! Furthermore, with acrylic, your cabinet color won't fade or dim and will remain shiny and bright year after year.
With acrylic and HPL, homeowners can choose a high gloss or a super matte finish! Our cabinet artisans can help you decide what finish is ideal for your space.
Pros: 
Easy to clean

Stain, moisture, and UV resistant

Cost-effective

Wide range of colors, shades designs

Very durable and strong

Withstands heavy amounts of wear

Ultra-modern appearance 
Cons: 
Unable to paint

Difficult  to repair 

Needs to be frequently cleaned
Thermo Structured Surface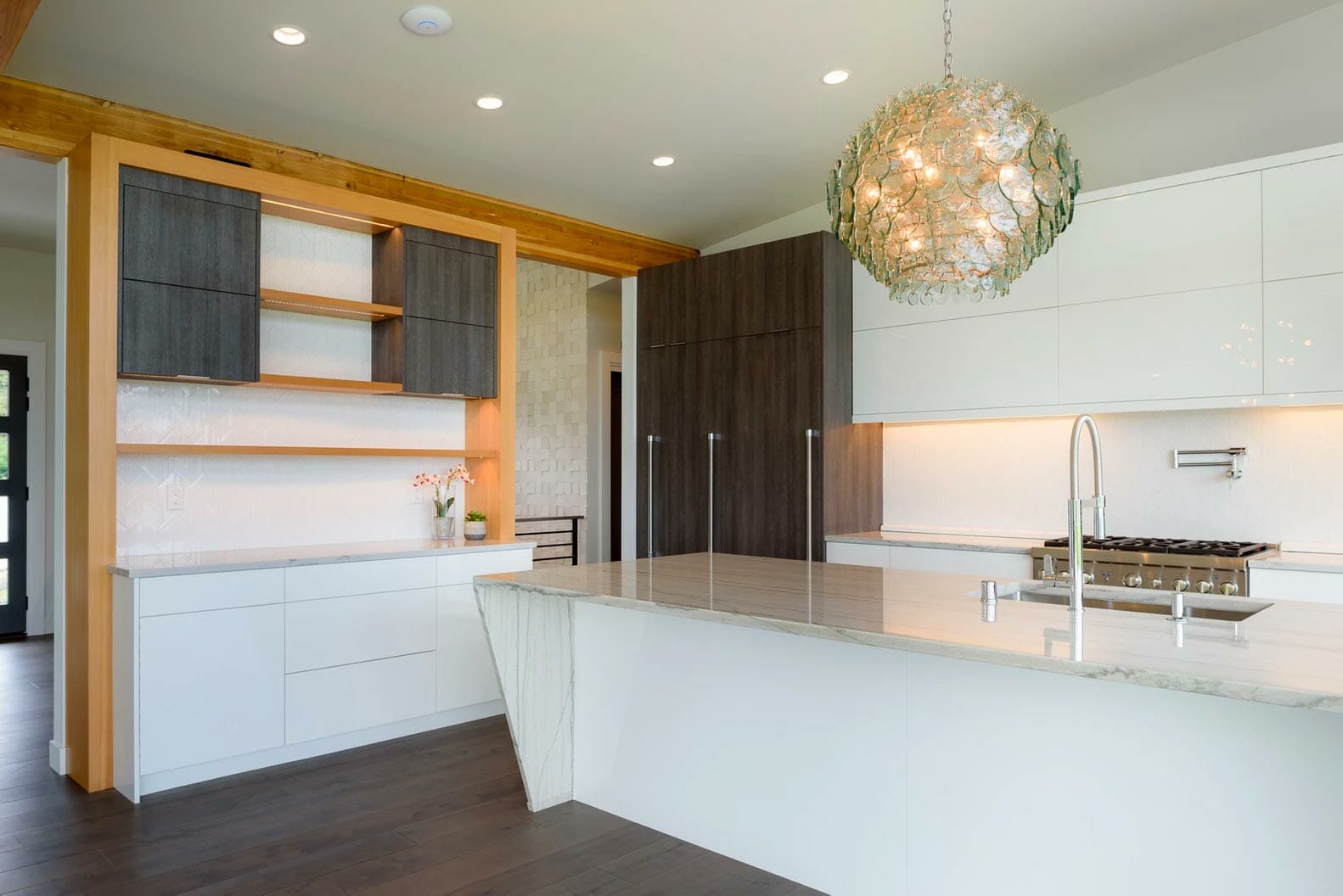 TSS or thermo structure surface is another real hardwood alternative for your cabinet doors. It is a textured wood grain face that is fused and stamped onto an interior of either particleboard or plywood. With TSS cabinets, you can attain the look and feel of natural hardwood while enjoying the benefits of superior quality, sturdy, long-lasting, easy-to-maintain material. Similar to real wood veneer, it is a great choice for anyone wanting a durable material that mimics the appearance of natural wood without the headaches that come with it.
We've quickly seen TSS cabinets rise in popularity as a strong contender in the wood-engineered genre of cabinets. With this material, you can select from a large range of natural wood-like finishes, shades, and textures, like walnut or oak, while maintaining the modern aesthetic for your contemporary style home.
Ultimately, this is a great material to achieve a beautifully natural yet modern appearance for your bathroom, kitchen, living room & more!
Pros: 
Easy to clean

Wide range of colors, shades designs

Very durable and sturdy 

Withstands heavy amounts of wear

Mimics the appearance of natural wood 

Wide variety of colors and shades 
Cons: 
Shaker and Modern Shaker Style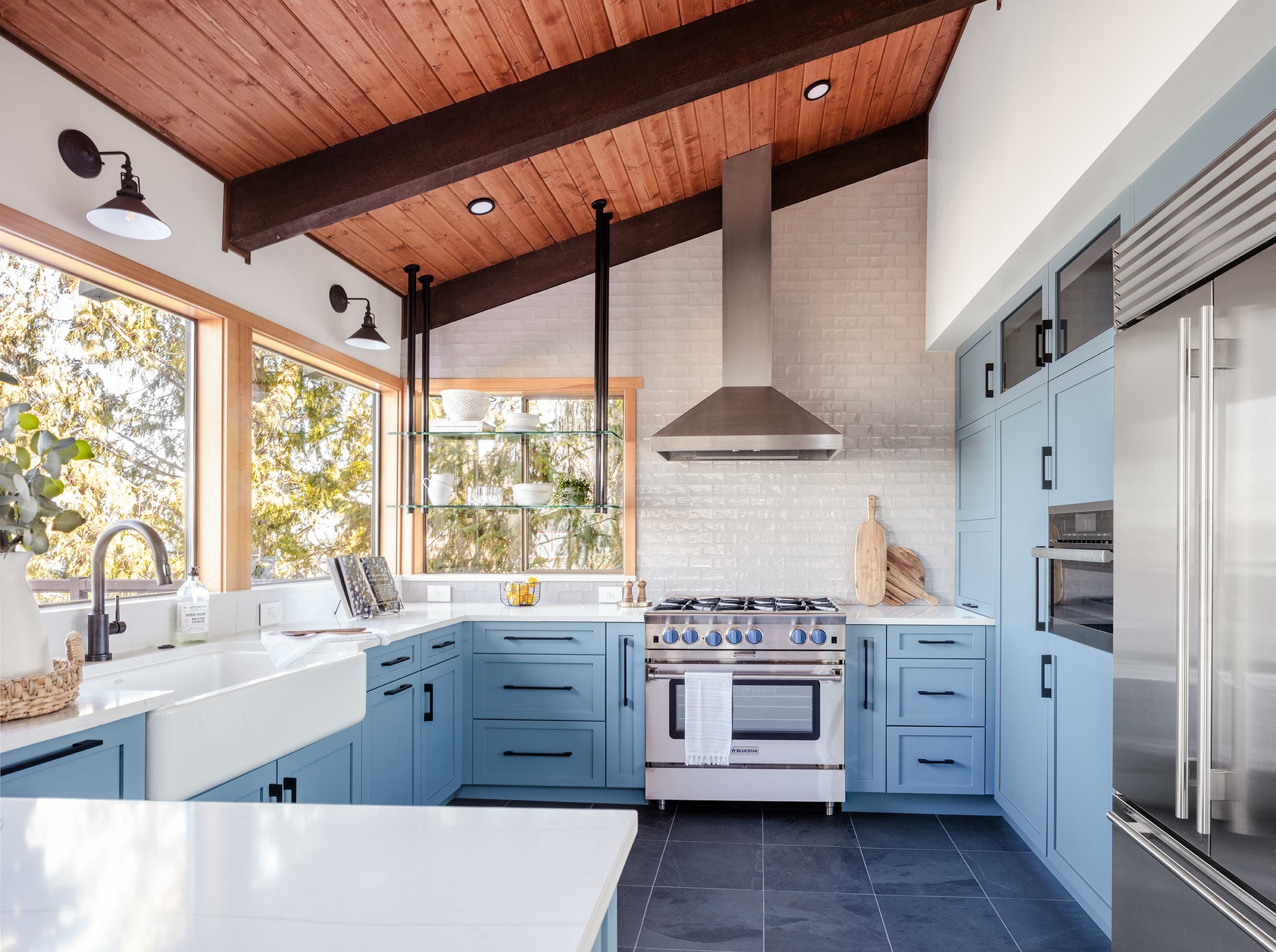 A shaker cabinet is a style of cabinet made up of a door surrounded by a very thin frame. This design creates an attractive, sleek appearance and frees up extra space in your bathroom or kitchen!
A big benefit of shaker-style cabinets is their versatility and ability to complement many home designs and styles. Because its design and construction are so inherently chic and simple, you can use this style of cabinets for anything from ultra-modern and contemporary to traditional and classic.
Over the past few years, our team has seen a modern take on the traditional shaker-style cabinet door blossom in popularity. These modern shaker-style cabinets possess a one-of-a-kind, trendy profile suitable for various modern home designs. This cabinet material style is a fantastic choice if you want an elegant, slim, and classy cabinet-facing door while remaining true to your modern taste! At Acadia Craft, we typically see his door style painted or stained in different natural wood finishes.
Pros: 
Versatile and minimalist design 

Thin frame

Wide variety of colors and shades 

Affordable 
Cons: 
Unable to paint

Difficult  to repair 

Needs to be frequently cleaned
Interior Wood Cabinet Materials
Plywood Core Materials
Plywood is a material made of thin wood layers glued and heated together. It is the more affordable option when compared to solid hardwood, yet it still offers a high level of durability and strength. However, not all plywood material is the same. You can find various quality grades ranging from AA to E. The lower the grade, the lower the quality, durability, and color payoff. Acadia Craft only uses a ¾ thick high quality grade plywood material with a birch or maple veneer finish. You see, plywood is used mainly for the interior walls of cabinets as it handles screws well and can hold a significant amount of weight.
Pros: 
Highly flexible

Easily repaired 

Strong

Light

It holds up well for drilling

More moisture resistant compared to particle board or MDF. 
Cons: 
Higher price point

Susceptible to warping on the temperature variation 

Susceptible to warping on humidity variation 
Particleboard Core Materials
Particle board is one of the most affordable cabinet materials and is made out of wood chips and scrap material pressed into sheets. Sometimes this material is sealed with wood veneer or laminate to increase its durability and improve its appearance. 
You most commonly see particle board used for cabinet interiors as it is cost-effective, very straight and stable core.
Usually, particle board material would come with the white or gray melamine face finish.
Pros: 
Better price point compared to plywood core materials.

The solid white or gray face finish is more in line with the modern cabinetry

A default material choice on european frameless cabinetry giving it's perfect core stability. 
Cons: 
More susceptible to water damage

Less resilient than plywood core material
High and Medium Density Fiberboard
Medium Density Fiberboard, or MDF and High Density Fiberboard, or HDF,  is a composite material made of wood fibers glued and pressed together. It is much heavier and more substantial than plywood and particleboard, making it suitable for high gloss acrylic panels and other laminated products as well as for painted surfaces. . 
Pros:
Strong surface

Very fine and straight surface that helps avoid orange peel on the high reflective surfaces

Stable core is resistant to warping

Easy to paint or stain 
Cons: 
Not as strong as hardwood

Heavier than plywood or PB core
Top 4 Modern Cabinet Materials 
Now that you better understand the different cabinet materials available for your cabinet doors and interior, you may wonder what is best for my modern kitchen or bathroom cabinets? Through our extensive knowledge and experience designing and working with European-style cabinets, here are what we consider the four best materials for your modern cabinets: 
Acrylic, HPL, and Polymer Laminates

Real Wood Veneer

TSS

Modern Shaker 
These materials are conducive for modern-style cabinetry as they are sleek, minimalistic, easy to maintain, highly durable, and come in various shades, colors, designs, and finishes. Their overall design, construction, and appearance complement modern spaces, unlike other materials such as bulky hardwood.  
What Cabinet Material is Right For You? 
Cabinetry can be a bit of a guessing game. What's the best choice for your cabinet doors? Cabinet interior? Handles? Hardware? It's up to you as the homeowner to pick out the different materials and see how they all fit together. You'll want to pick something that reflects your personal style, complements your home's design, and lasts for years to come.
But you don't have to do it alone! The team at Acadia Craft is here to assist you with your cabinetry material selection, design, construction, and installation. We provide our clients with unparalleled craftsmanship and customer service, helping turn your modern cabinetry dreams into reality. Whether you want high gloss modern acrylic cabinets or a classic oak real wood veneer, our expert team can make it happen! The beauty of working with a custom cabinetry company like Acadia Craft is that everything is entirely tailored to your design preferences.  
Contact us today for more information about our modern European-style cabinets and how to get started on your custom cabinetry journey!