If you're tired of having cluttered, bulky cabinets that take up too much space in your home, consider upgrading to streamlined, modern European style cabinets.
One of the biggest benefits of modern European cabinets is their increased functionality and storage capabilities. These cabinets are designed to be highly functional, with features such as adjustable shelves, pull-out drawers, and built-in organizers to help you take full advantage of your storage space and keep your home organized. They are great for smaller rooms or houses, as they provide homeowners with additional storage and organization solutions they could not have with traditional cabinets.
Modern cabinets are also versatile enough to be used in a variety of settings, from your kitchen to the living room and bedroom. You can create anything from a corner Susan for your kitchen spices to a luxurious custom unit for your theater room. Designed with an emphasis on both style and functionality, modern cabinets are the best choice for someone looking to maximize their storage capacity while adding beauty to their space.
So how can modern cabinets increase the storage and efficiency of your space, and what are your options? Let's take a closer look at six storage solution ideas for your modern European Cabinets.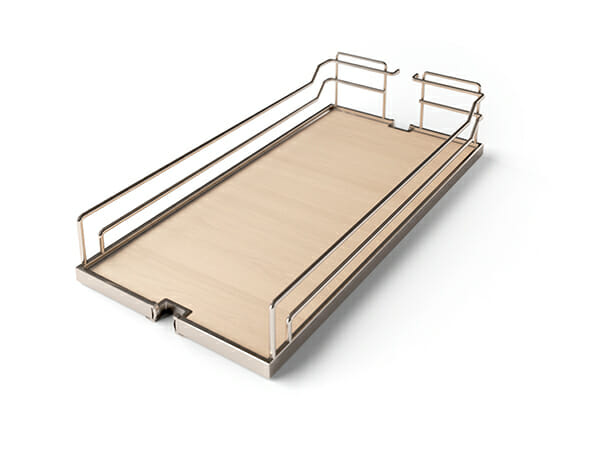 Arena shelves are a type of innovative shelving system designed to be both functional and aesthetically pleasing. Arena shelves are typically made from a melamine surface, available in a maple or white finish with a chrome or steel rounded railing. Arena shelves are known for their clean look and minimalist design, which can add a simplistic elegance to any space.
In addition to their sleek, high-quality appearance, arena shelves are also highly functional, with features such as soft stop-dampened closing and an anti-slip transparent coating that protects them against daily wear and tear. With arena shelves, you never have to worry about your object falling over as you pull the shelf out – its surface design makes for no slippage.
Whether you need shelves for your kitchen, bathroom, living room, or bedroom, arena shelves are a great choice for anyone looking to add increased functionality and organization to their home.
Tall Cabinets Storage Solutions
Tall cabinets are a great storage solution for kitchens and pantries. The reason is that their height allows for maximum storage space and helps keep common household items hidden from your countertops or pantry shelf.
Tall cabinet pullout systems give homeowners a high level of visibility when searching for food or kitchen items. Its intelligent pullout technology allows the cabinet to glide forward when the door is open, providing homeowners with easy access to what they need. These systems are a great option for someone wanting to hide pantry clutter and maintain a sleek and cohesive look throughout their culinary space. It is the perfect storage solution for smaller kitchens, as it maximizes space with its double set of height-adjustable shelves. On top of all its great features, these modern cabinets also include soft stop technology for a gentle opening and closing.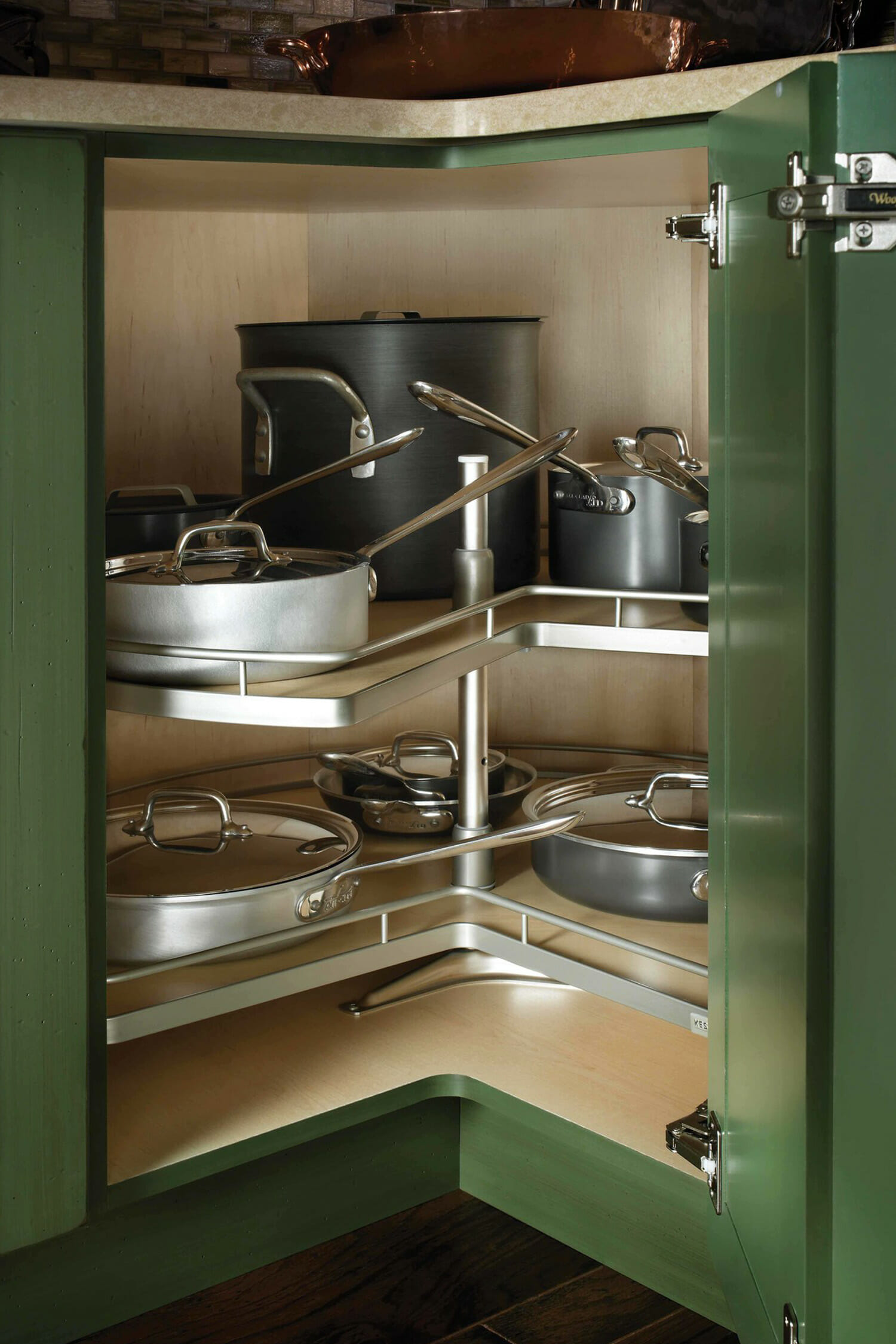 Corner Cabinet Storage Solutions
Corner cabinets are a type of cabinet designed to fit into the corner of a room. With corner cabinets, you can enjoy the benefit of additional storage in an otherwise unused or wasted space, such as the gap between your appliances and cabinets. Because of their unique shape, corner cabinets help save you space and maximize your kitchen's storage capacity.
They are often used to store items such as pots and pans or serving platters that you don't use frequently.
Normally, a big portion of the space in the corner cabinet is hardly accessible, however with modern storage solution systems, the accessibility and functionality of that corner space increases significantly, making the use of every inch of your kitchen easily accessible and pleasant, providing easy, fluid reach and full object visibility. These corner cabinet systems include great features such as anti-slip shelves, adjustable shelving racks, a soft close mechanism, and motion gliding.
If you want to upgrade your kitchen's storage capacity and utilize space that would otherwise be wasted, corner cabinet systems are a great solution.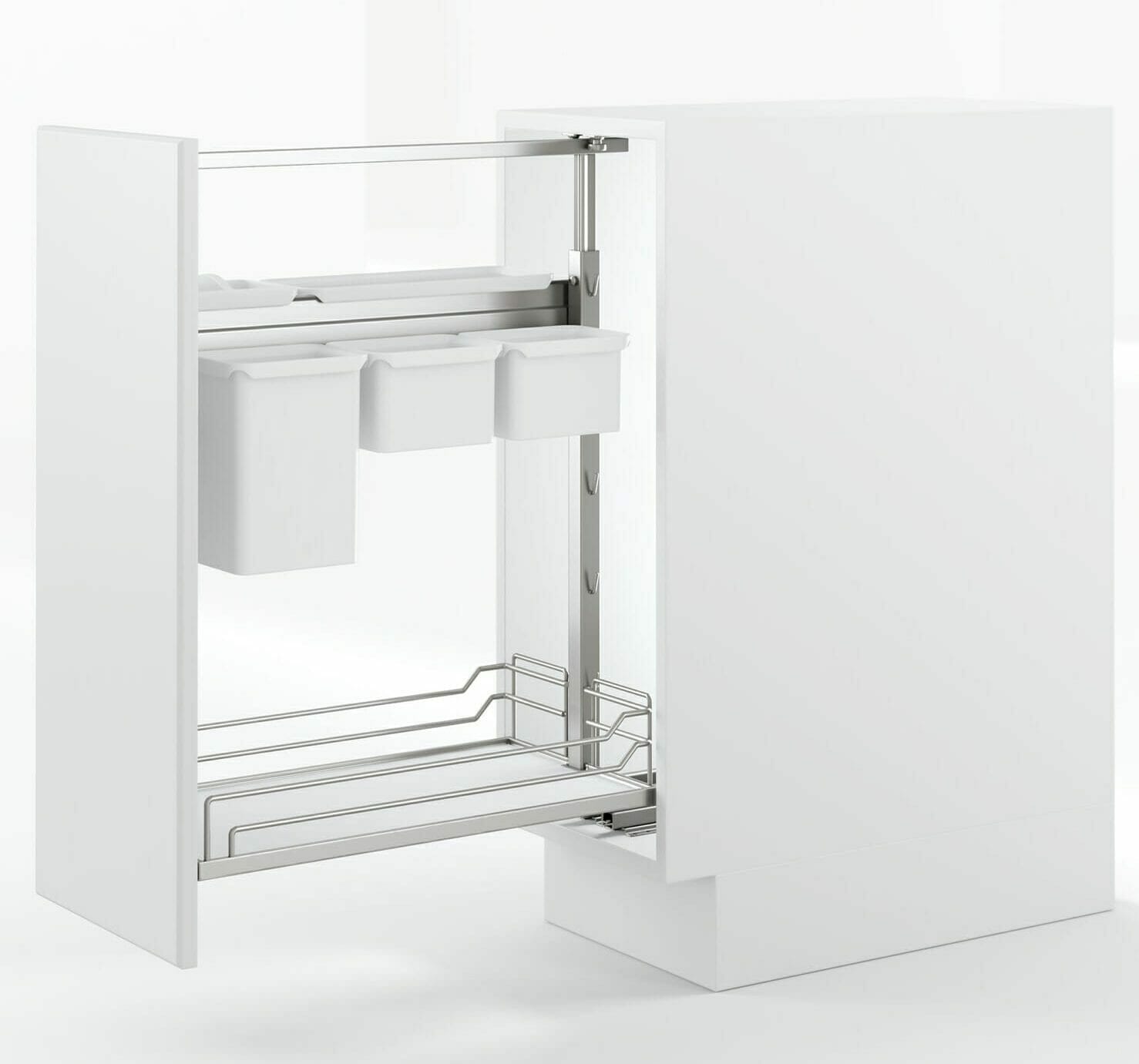 Base Cabinet Storage Solutions
Base cabinets are a type of kitchen cabinet with a pull-out drawer at the bottom of the cabinet. These cabinets are designed to provide easy access to items stored at the back of the cabinet, such as pots, pans, food, baking sheets, garbage bins, cleaning supplies, and other cooking utensils. The pull-out drawer is mounted on rollers or slides, allowing it to glide out from the cabinet. This makes it convenient to access hard-to-reach items without having to dig through the entirety of your cabinet contents.
Base pull-out under-drawer cabinets are a great way to hide clutter, maintain a coordinated design aesthetic, and add additional storage space. Additionally, cooking and cleaning are much more efficient as you have quick, easy access to your utensils and supplies.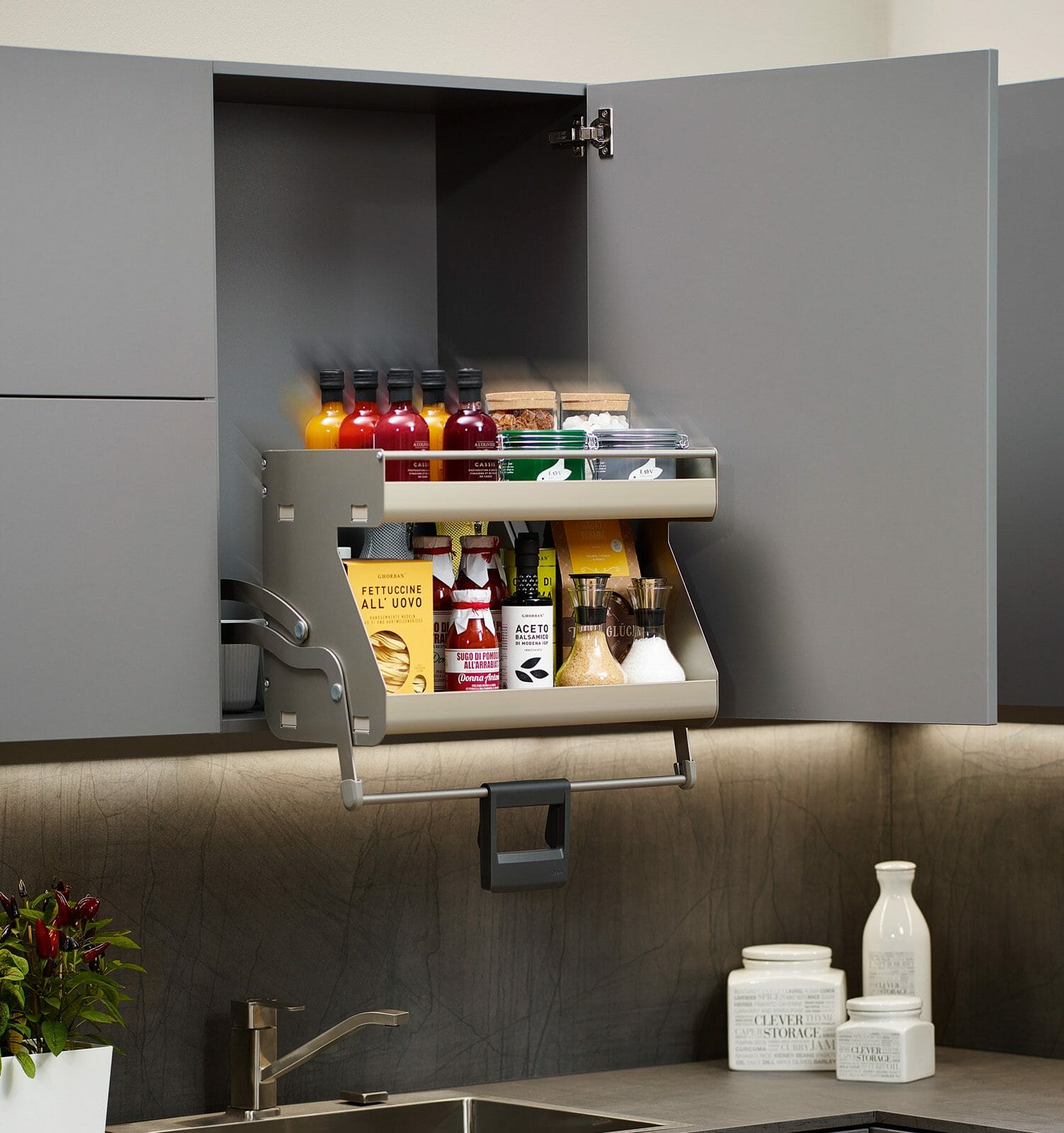 Wall cabinets are a type of cabinet that is mounted on the wall and have front panels that lift up. Wall cabinets are a great way to save space and keep your kitchen organized, as they utilize what would otherwise be unused space and provide a solution for keeping items off your countertops.
Since wall cabinets are placed at tall heights, they feature characteristics such as a pull-down system that moves the shelving contents downwards and forwards and push-to-open and soft-stop technology. This allows homeowners to simply pull down the contents of their wall cabinets and pick what they need without standing on a step stool and digging through the objects. It also provides peace of mind that your objects are safe and secure while opening and closing your cabinet.
Wall Display Storage System
You might have some items you don't want to hide away in your cabinets and want to show off to guests! Many homeowners opt to display luxury items such as knife sets, wine bottles, and beautiful kitchen accessories. Modern storage solutions include Pin Wine, Pin Knife, and Pin Shelf wall storage systems to display your prized possessions.
These pin and shelving systems can be mounted to your wall or into recessed wood panels and feature a non-slip coating that keeps your object placed securely on your wall. With these systems, you can create a customized display to beautifully showcase your items while keeping your countertops and cabinets decluttered.
Benefits Of Cabinet Drawer Organization
Simply put, traditional-style cabinets don't offer the same types of innovative storage solutions that can be found with modern European cabinets. These bulky cabinets don't make the most use of your space and don't offer any specialized features that improve your space's functionality or storage capabilities.
With modern European cabinets, homeowners can enjoy customized storage solutions that maximize your space, no matter how big or small. Take advantage of features like pull-out shelves, built-in organizers, and other space-saving solutions that keep your home organized and clutter-free.
Choose Acadia Craft for Your Modern Storage Solutions
At Acadia Craft, we are dedicated to manufacturing high-quality, stylish, and functional modern European cabinets for your Seattle home. Our cabinets are designed with clean lines and a modern minimalist aesthetic and provide maximum storage capabilities.
We locally source high-quality materials and utilize innovative storage solutions from leading brands. Whether you need cabinets for your kitchen, bathroom, living room, or bedroom, we have the perfect solution to help increase your storage space and enhance your lifestyle.
Contact Acadia Craft today to learn more about drawing organization ideas and products for your modern European cabinets.