As 2023 begins, the artisans at Acadia Craft want to discuss the most recent design and storage trends in the modern European cabinetry industry. This industry is constantly evolving and innovating its offerings, and year after year, new style trends take hold in popularity.
Whether you want to completely overhaul your kitchen or just want to add a subtle addition to your media room, there is sure to be a modern European cabinetry trend that aligns with your lifestyle needs and design taste. Keep reading to learn about the 5 latest trends in modern European cabinetry for your home!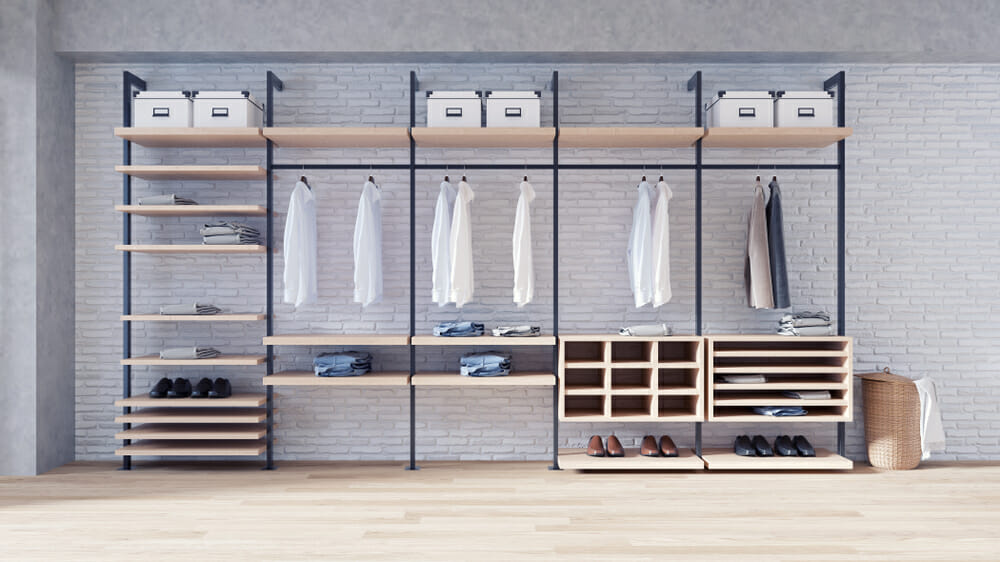 Open Shelving
Open shelving is an excellent way to add a touch of personality and decor to any room in your home. These types of shelving systems allow you to easily organize and display attractive-looking items without the room becoming too cluttered or busy looking. This shelving style is becoming increasingly popular, as they allow people to achieve a modern, minimalist design aesthetic without allowing the space to become too monotone and drab. Additionally, open shelves can make an area seem more spacious, as opposed to the bulkiness of traditional built-in shelving systems.
You can customize your system's grid layout and size depending on where you want your shelving system and what you want it to store. For example, you can design a simple horizontal 2-shelf system for storing glasses in your kitchen or books in your home office. Or you could take a more intricate approach and customize an L-shape design for your around your living-room television.
Whether you have minimalistic taste or like your home to be bursting with decor, open shelving systems are extremely adaptable when it comes to complimenting different styles. There are countless options, and they are perfect for just about any room in your home.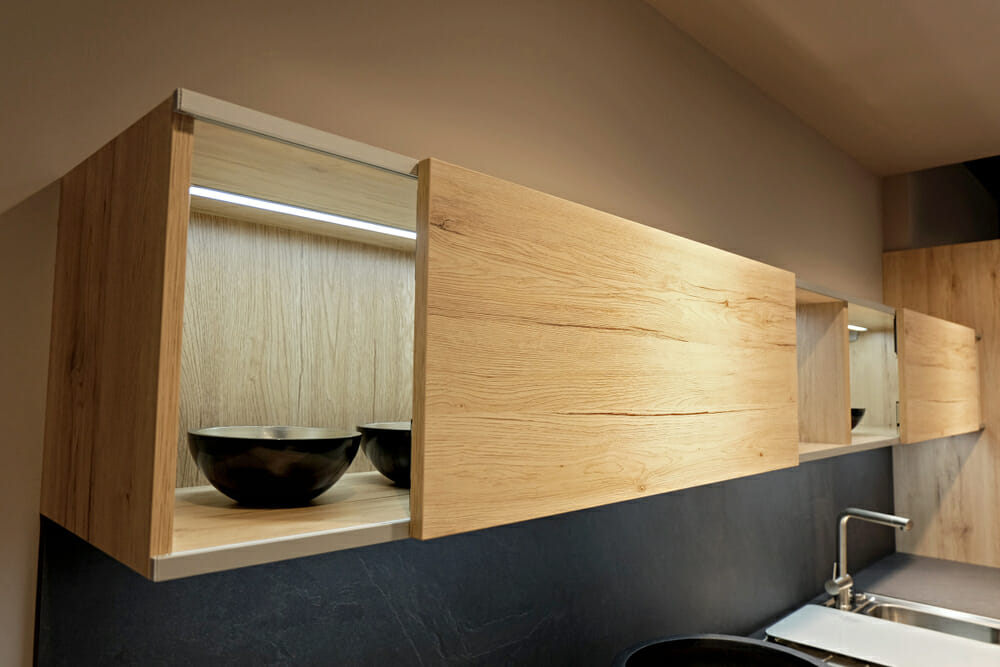 Vertical Sliding System
One of the latest trends in modern cabinetry is installing a vertical sliding system over your built-in cabinet hutch. A vertical sliding system includes a movable door that moves up and down on silent runners, allowing you to slide it up and down your cabinet system.
A vertical sliding system is a great way to conceal the components inside your cabinets wherever you want easily. It is a vertical runner system that conveniently takes up little to no space and seamlessly moves the door up and down, allowing you to access your cabinet objects whenever you need them easily.
These systems afford you more privacy for your personal belongings when guests or visitors come over. They are also great for when you are tired of looking at certain unattractive items like your computer, papers, or office mess. Once installed, you'll be amazed at how great it is to be able to cover up your belongings and enjoy a clutter-free space.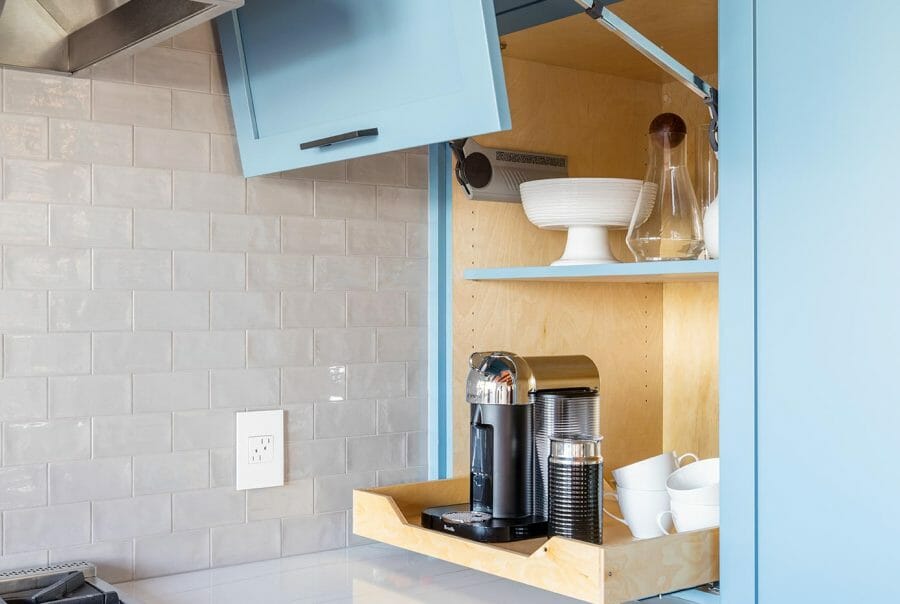 Integrated Appliances
One of the most popular design trends that have been on the rise over the last few years is integrating one's kitchen appliances into their cabinets. This allows homeowners to modernize and streamline the look and feel of their entire kitchen by consolidating their appliances into their Modern European cabinets. Meaning, that instead of having a stainless steel microwave and fridge that break up the aesthetic of your space, you can achieve a completely unified look by hiding the microwave inside of a cabinet and having your fridge covered in your cabinet design.
Design and appearance aside, doing this can also make your kitchen more functional and efficient due to the extra countertop space created. If you are thinking about installing Modern European cabinets in your home, integrating your appliances is a smart choice.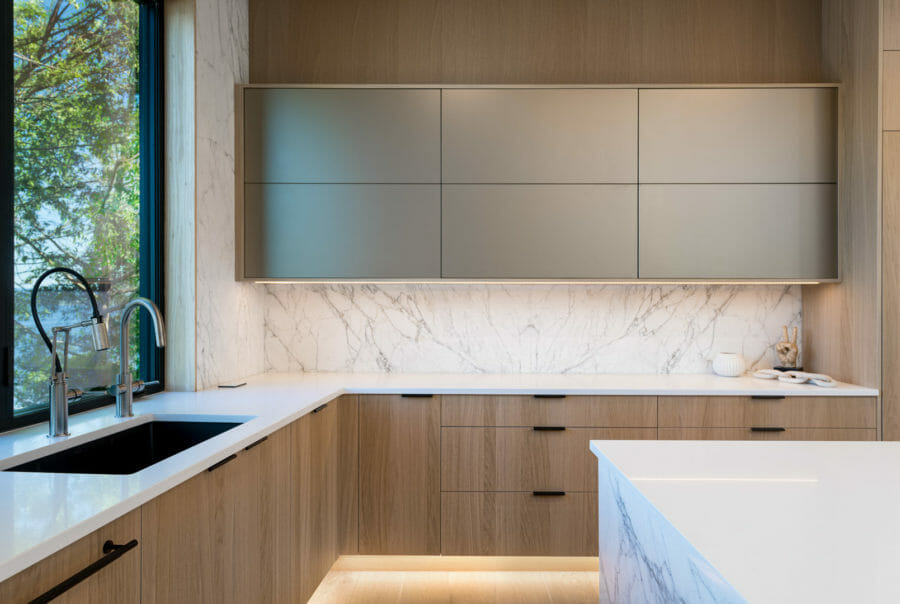 Deep Drawers
In addition to open shelving and integrated appliances, deep cabinet drawers are also trending largely among homeowners. People no longer desire to have to grab a step stool to reach tall upper cabinets only to have items fall out in disarray. Now, we are seeing an influx of wide and deep drawers that pull out for convenient and easy use.
These deep drawers are perfect for storing larger items such as pots, pans, baking sheets, and other larger appliances and cookware. You don't have to worry about things falling out, and you can customize each drawer with different organizational inserts. Best of all, you can maintain the sleek frameless appearance of your Modern European cabinets all while enjoying increased storage space.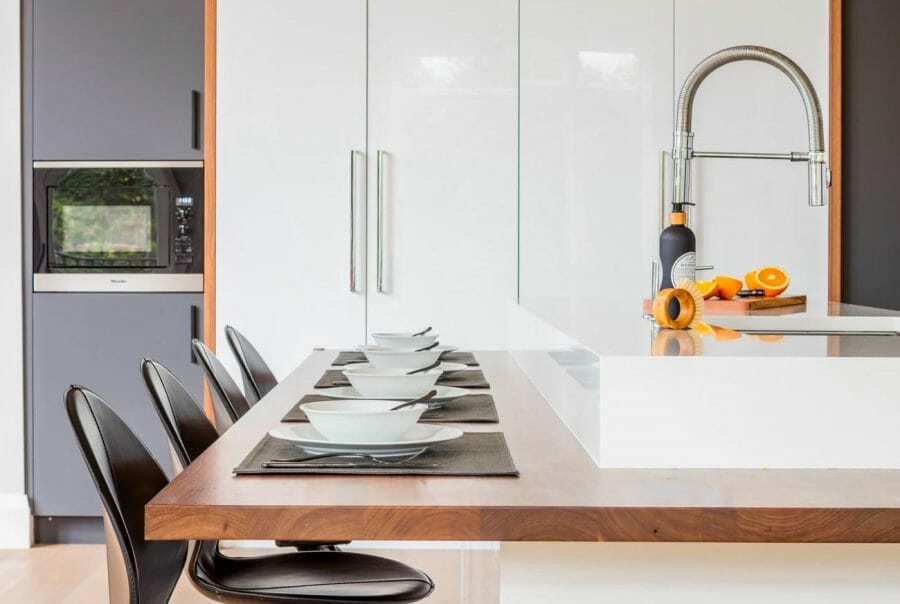 Double Islands With Pull Out Drawers
Now that open floor plans and spacious kitchens outfitted entertaining have been the standard over the last decade; but now a new design trend has been all the rave: double islands. Typically, homeowners love kitchen islands for food prepping, cooking, eating, and even just hanging out with friends and family. Now, people are starting to implement two kitchen islands, one for cooking and one for leisure.
This means that one island can be outfitted with your appliances, deep drawers for kitchenware and cutlery, pull-out drawers with food or garbage disposal, and various storage solutions. The second kitchen island can be used for sitting, eating, and lounging by implementing a bar seating area, entertainment center, wine storage, or various unique designs. When it comes to kitchen islands, gone are the days where you simply make use of the large countertops – with modern European cabinets, you can utilize the entire structure for your storage needs.
Choose Acadia Craft For Your Modern European Cabinetry
Acadia Craft is an award-winning Modern European cabinetry designer and manufacturer in Woodinville, Washington. Reach out to our team to learn more about how you can implement these modern cabinetry trends for your home. Whether you want an open shelving system from premium manufacturers or new cabinets for your kitchen island, we help. Contact Acadia Craft Today!